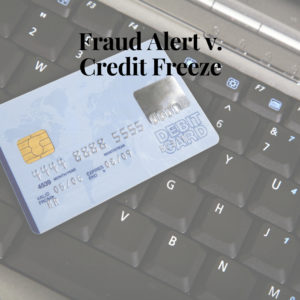 With recent news of large data breaches, like many consumers, you may feel anxious and wonder if you're doing enough to protect your personal information going forward. A fraud alert or a credit freeze can help give you peace of mind.
Here's a snapshot of the two security options, and how to add them to your credit file:
Fraud Alert
A fraud alert is a temporary, no-cost, 90-day statement that notifies potential lenders to verify your identification before extending credit in your name. To add it to your file, call or visit the website of one of the three major credit bureaus. After providing identifying information, such as your name and Social Security number to one bureau, the alert will be automatically added by the other bureaus. Fraud alerts are renewable every 90 days, with unlimited renewals. Alerts also can be extended for seven years if you provide a police report showing that you've been a victim of identity theft.
Credit Freeze 
A credit freeze, also referred to as a security freeze, stops potential lenders from obtaining your credit report, preventing credit, loans and other services from being approved in your name without your consent. If you plan to apply for a mortgage or other lines of credit, a credit freeze could impact the approval process, so keep this in mind since you will need to lift or remove the freeze before lenders can review it. Unlike a fraud alert, you need to contact all three bureaus separately to add a credit freeze to your file. Fees apply to start and stop credit freezes, which vary by state.