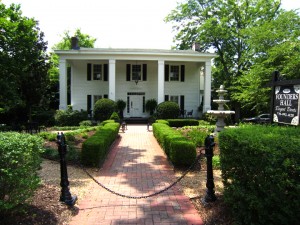 Roswell is a city located in northern Fulton County. Roswell is Georgia's 8th largest city with a population of 88,346 per the 2010 United States Census. Roswell borders Sandy Springs on the south at the Chattahoochee River, East Cobb on the west, Alpharetta on the north, and Johns Creek on the east.
Roswell is known for it's historic town tours, and "downtown Roswell", a quaint area of shops, restaurants, and antiques. This picturesque area is a popular destination for wedding and engagement photos. See historic sites here.
Popular Roswell Fulton County subdivisions include:
Barrington Farms | Brookfield County Club | Centennial | Chickering | Creekside at Lake Charles | Devereux Downs | Edenwilde |  Glenayre | Hadfield | Hembree Grove | Horseshoe Bend | Inverness | Ivey Ridge | Lake Charles Plantation | Lakeside at Ansley | Laurian Park | Litchfield Hundred | Martin's Landing | Mountain Park | Nesbit Ridge | Pine Grove | River Falls | Shallowford Park | Weatherford Place | Wildwood Springs | Willow Springs | Windfaire
Popular Roswell Cobb County subdivisions include:
Carriage Lakes | Carriage Park | Chatsworth | Chimney Lakes | Coventry Green | Edgewater Cove | Garrison Oaks | Loch Highland | Summit Oaks
Condominiums and Townhomes:
Cottages of Roswell | Crabapple Commons | Creekside at Mansell | Heatherton | Heritage at Roswell | Hidden Lake | Manchester Place | River Mill Condominiums | Roswell Springs Condominiums | Wynfield Gables
Property Resumé
Historic Sites
Roswell Mills and Old Mill Park 

On the banks of Vickery's Creek, ruins of the Roswell Mills can be found.  The largest mill building was constructed in 1853 and the area is now a city park.  A few hundred feet down stream from that location, is the site of Roswell's first cotton mill which was built in 1839.  These mills were burned by Union forces on July 7, 1864, with the help of some of the  Roswell Mill employees.  Only the 1853 mill was rebuilt after the war and used until destroyed by fire again in 1926. These mills were known as the Roswell Manufacturing Company.  The mill seen today was built in 1882 as an addition to the complex. Today, the Roswell Mill houses offices and an events facility.
Lost Mill Workers of Roswell
Theophile Roche, a French citizen, had been employed by the cotton mills and later the woolen mill. In an attempt to save the mills, he flew a French flag in hopes of claiming neutrality. However, the letters "CSA" (Confederate States of America) were found on cloth being produced. For two days the mill was spared, but on July 7,  after it was proven that the claim of being neutral was false, General Sherman ordered everyone connected with the mill to be charged with treason. The nearby cotton mill was also destroyed. Mill workers, mostly women and children since the men were fighting the war, were arrested, charged with treason and sent north to uncertain fates. One of the women involved in this tragedy was pregnant and working as a seamstress at the mill. She was sent north to Chicago and left to fend for herself. It would take five years before she and her daughter would return, on foot, to Roswell, only to find that her husband had remarried because he thought she was dead. A monument, dedicated to the 400 women and children, is located in the park on Sloan Street.
Roswell Town Square

"I repeat my orders that you arrest all people, male and female, connected with those factories, no matter what the clamor, and let them foot it, under guard, to Marietta, whence I will send them by cars to the North … The poor women will make a howl."
The 400 Roswell mill workers (mostly women and children) who were charged with treason were held overnight, under guard, in the Town Square until they could be sent by wagons to Marietta and transported by train to the north. The Town Square is also the setting for President Theodore Roosevelt's visit to Roswell. The crowds gathered here and he also visited his mother's childhood home, Bulloch Hall where he was reminiscent of the stories she had told him as a child.
Thank you to VisitRoswellGA.com for historic information.