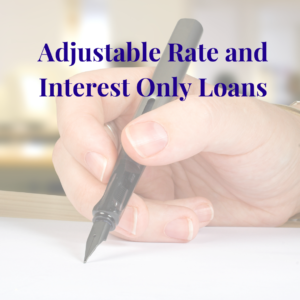 As the economy changes and interest rates rise, adjustable rate mortgages (ARMs) and interest-only loans are becoming a more popular mortgage loan option. Here's some information for you if you might be interested in an adjustable rate mortgage.
Fixed-Rate v. Adjustable-Rate With an ARM, the interest rate will fluctuate throughout the life of your client's loan (verses a fixed rate loan, where the interest rate stays the same). With an ARM, the interest rate remains the same for the initial rate period, which usually ranges from one to five years, and then adjusts every year for the rest of their loan.
Benefits of an interest-only ARM? For buyers who qualify for an interest-only ARM, the main benefit is a smaller payment the first few years (since you'd only pay on interest). Many borrowers choose this option to pocket the savings and increase their salaries during that time, so they can afford bigger mortgage payments when the time comes.
Interest-only ARMs are not for everyone It's important for your clients to understand that interest-only ARMs aren't the right option for everyone. Only an experienced borrower who understands the risks associated with interest-only ARMs should consider this option.
Thanks to Devorah Shaw for the info!