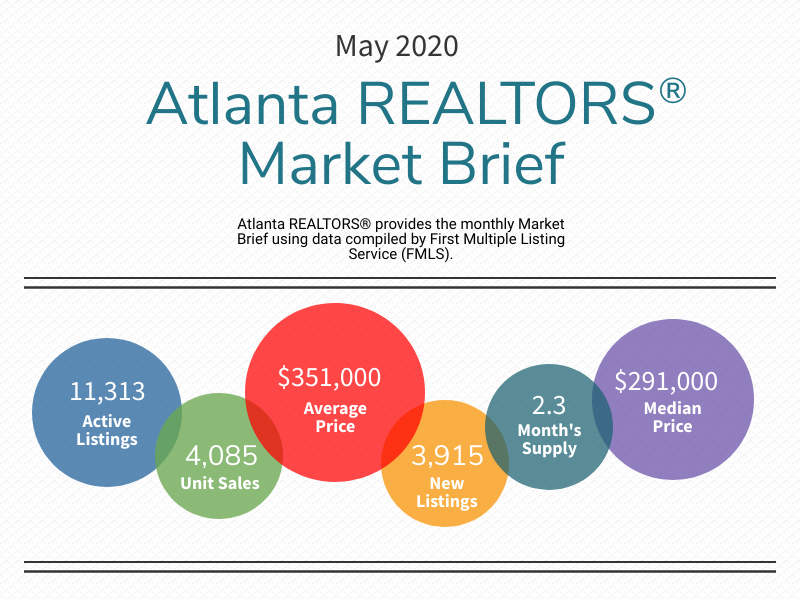 The Atlanta REALTORS® Association (ARA), the largest association of its kind in Georgia, released its May 2020 Market Brief on residential housing statistics in metro-Atlanta. The Market Brief, compiled by First Multiple Listing Service (FMLS), provides the only regionally focused synopsis of monthly sales and home prices for single family residential properties. This summary covers 11 counties: Cherokee, Clayton, Cobb, DeKalb, Douglas, Fayette, Forsyth, Fulton, Gwinnett, Paulding and Rockdale.
May Comments
Demand: May residential sales were at 4,085, a decrease of 36.8% from the previous year.
Price: Average and median sales prices continue to gain traction and outpace 2019's figures, with positive gains. The median sales price in May was $291,000, an increase of 0.3% from last May. The average sales price was $351,000, down -0.6% from the previous year.
Supply: Atlanta area housing inventory totaled 11,313 units in May, a decrease of 23.7% from May 2019. New listings totaled 3,915, down 35.8% from May 2019 and up 5.4% from the previous month. The month's supply over a 12-month period decreased to 2.3 months.
A Word from 2020 Atlanta REALTORS® President Jennifer Pino: "While prices remain steady, sales for May reflect the impact of the Shelter in Place Order that Metro Atlanta residents were following during March and April. Based on the showing activity during those months, this was an expected decline and will continue to affect the overall sales for the early part of the summer," said Jennifer Pino, President of Atlanta REALTORS® Association.
"Interest rates are now at historic lows falling below 3% in many cases so combined with the re-opening of many businesses, we have seen the showing activity and pending sales trending upward over the last month. Based on this trend, activity is expected to trend higher overall this summer as compared to last summer. "
The data in this report was compiled by First Multiple Listing Service (FMLS). For more information on details of this month's report, please contact the Association at 404.250.0051.
*Each month, the numbers reported for the previous month are updated to reflect additional recordings.