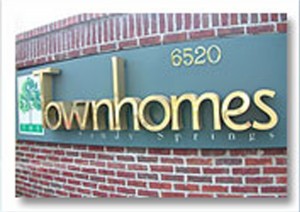 The Townhomes at Sandy Springs is a wonderful private neighborhood located in North Fulton County. This beautiful gated community features old-world charm with its brick construction and mature trees. Whether relaxing by the pool or in one of the property's courtyards, you'll enjoy the quiet luxury of this hidden gem community. The location is priceless.
Located only 1 1/8 mile from I-285 and even closer to GA 400, The Townhomes at Sandy Springs offers exceptional value with uncompromised style. Dining and shopping options surround you. Whether you enjoy perusing all of the latest styles at one of the nearby malls or you prefer the beautiful outdoors of the Chattahoochee Nature Preserve, all of your necessities are within minutes. The surface streets offer short cuts to the premier business districts in the South. Atlanta's best hospitals, malls and schools. MARTA is just minutes away and the grocery, drug and video stores are within walking distance. Yet, the park-like setting will make you feel like you're miles away from it all.
The homes are made of brick with four floor plans featuring two and three bedroom townhomes and spacious garden flats. For owners who value their own space over crowded apartment-style condominiums, these spacious townhomes and garden flat units offer unique style and privacy. The grounds are beautiful—flowers and mature landscaping surround your home. This 116-unit community offers choices suited to your taste. The entry foyers are hardwoods. You'll find details no longer used in traditional construction such as copper over the bay window. The homes feature walk-in closets, large living and dining rooms, patios and terraces. Mature trees provide a natural canopy for the sidewalks. The open spaces have been preserved for picnics, pets and cookouts. You'll also find a community clubhouse featuring a swimming pool, fitness center, and a kitchen suitable for all your entertainment needs.
Available Properties in Townhomes at Sandy Springs
Property Resumé