In 1981, a group of Georgia Institute of Technology graduates bought 1,700 acres of farm land and woods near McGinnis Ferry and Medlock Bridge roads for a high-tech office park. The new office park was to mirror one built in 1970 in nearby Peachtree Corners, known as Technology Park/Atlanta. Spotting tiny Johns Creek on an old map, they named their mixed-use, master-planned community Technology Park/Johns Creek. The area grew over the years to become the home of 200 companies – many of them Fortune 500 firms – with nearly 11,000 people spread over 6 million square feet of office, retail and industrial space. With the jobs came houses and shopping centers, and the population increased to about 60,000.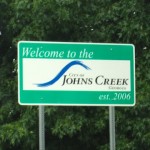 By 2000, a grassroots movement to incorporate the Johns Creek area into a city was slowly developing. Following the nearby city of Sandy Springs' successful incorporation in 2005, a legislative campaign was started to incorporate the Johns Creek community. House Bill 1321 was passed by the state legislature, signed by Gov. Sonny Perdue in March 2006, and approved by the residents of northeast Fulton County in a July 18, 2006 voter referendum. The city was named for a tributary that runs through the area. In November 2006, the city's first elected officials were voted into office, with the City of Johns Creek becoming official December 1, 2006.
Johns Creek is bounded by Roswell to the west and south, Alpharetta to the northwest, Forsyth County, and the city of Suwanee to the north, and Gwinnett County to the south and east.
Popular subdivisions include:
Bellmoore Park | Breckenridge | Cambridge | Bridgewater | Byers Landing | Chartwell | Country Club of the South | Doublegate | Edgewater Estates | Enclave at Foxdale | Estates at Foxdale | Fox Creek | Glastonberry | Glenhurst | Hartridge | Haynes Manor | Haynesbrooke | Hillbrooke | Huntington | Lexington Woods | Mayfair | Montclair | Olde Taylor Farms | Prestwick | Quail Hollow | River Farm | Rivermont | Seven Oaks | St Ives Country Club | Sugar Mill | The Estate at Deer Chase | The Falls of Autry Mill | The Noor | The Preserve At Johns Creek | Thornhill | Wentworth | Winfield on the River | Wyngate
Condominiums and Townhomes:
Abberley Towneship | Abbotts Mill | Abbotts Bridge Place | Arlington Pointe | Brookhaven at Johns Creek | Creekside At Kimble Bridge | Merrimont | River Ridge | Sanctuary At Rivermont | The Villas of Johns Creek
Property Resumé
Available Johns Creek Homes