Camden Pointe
Located in Acworth, Georgia, off Mars Hill Road, Camden Pointe is recognized by their signature lake with its fountain and resident ducks, 2 clubhouses, pools, playground and 4 tennis courts.
Camden Pointe has over 120 residents who play ALTA tennis. There are 4 separate playing seasons. Juniors, Women's and Men's teams compete in the Spring and Fall. And Mixed teams compete in the Summer and Winter. There are also USTA teams. All residents are welcome to join a team and come out and have a great time.
The large and small clubhouses are available for any Camden Pointe homeowner in good standing to utilize for any occasion. The large main clubhouse can easily accommodate 100 people in the main room. This venue is perfect for dancing, karaoke and other activities. The kitchen features a stove, microwave and large refrigerator. In summer months the large clubhouse offers easy access to the Camden Pointe pool.
The small clubhouse can comfortably accommodate 25 people in 3 rooms and has a wheelchair-accessible bathroom and kitchen with a small refrigerator. Directly behind the small clubhouse is the 9 hole putt-putt course. The small clubhouse has clubs but residents will need to provide golf balls for guests.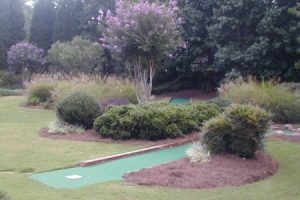 Property Resumé
---
---