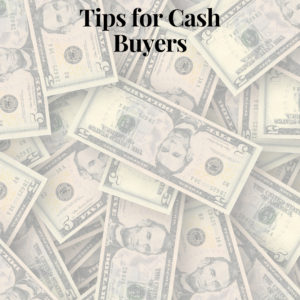 Just because you aren't getting a loan doesn't mean you don't need representation. For representation in your cash deals, contact us!
Many buyers are choosing to buy real estate for cash, thanks to low prices, a huge inventory of foreclosed properties, and poor rates of return on other types of investments.
Although the only legal requirement for a cash purchase is the money, there are several important considerations for a cash buyer:
Owner's title insurance: This is imperative for the cash buyer, especially when buying a foreclosed or distressed property such as a short sale.
Home inspection: Never buy without one. Even new or renovated homes have issues.
Appraisal: There is no lender appraisal, so this is the only way to insure that the purchase price is reasonable.
Survey: Always recommended for small lots and properties in older or urban areas. We always recommend a survey, no matter the size or location of the property.
Flood zone determination: A lender always checks this, and a buyer should also. If you are in a flood zone, your insurance company may require additional coverage.
Hazard insurance: Always have the property bound with insurance from the closing date (do not put this off!)
Termite inspection: A termite problem can be a major expense.
HOA dues or condo dues: Inquire about pending assessments or increases in dues – check the foreclosure rates, owner occupancy rates, and financial stability of the complex and association.
Water bills: Look at recent water bills to make sure they are not unreasonably high – this could reveal a leaky or broken pipe.
Information provided by Neel & Robinson, Attorneys