Demand: February residential sales were at 3,246, an increase of 6.1% from the previous year.
Price: Average and median sales prices continue to gain traction and outpace 2015's figures, with positive gains. The median sales price in February was $216,000, an increase of 4.4% from last February. The average sales price was $273,000, up 4.6% from the previous year.
Supply: Atlanta area housing inventory totaled 13,046 units in February, a decrease of 4.2% from February 2015. New listings totaled 4,196, up 5.6% from February 2015 and up 2.3% from the previous month. The supply for sales over a 12 month period declined to 3.0 months.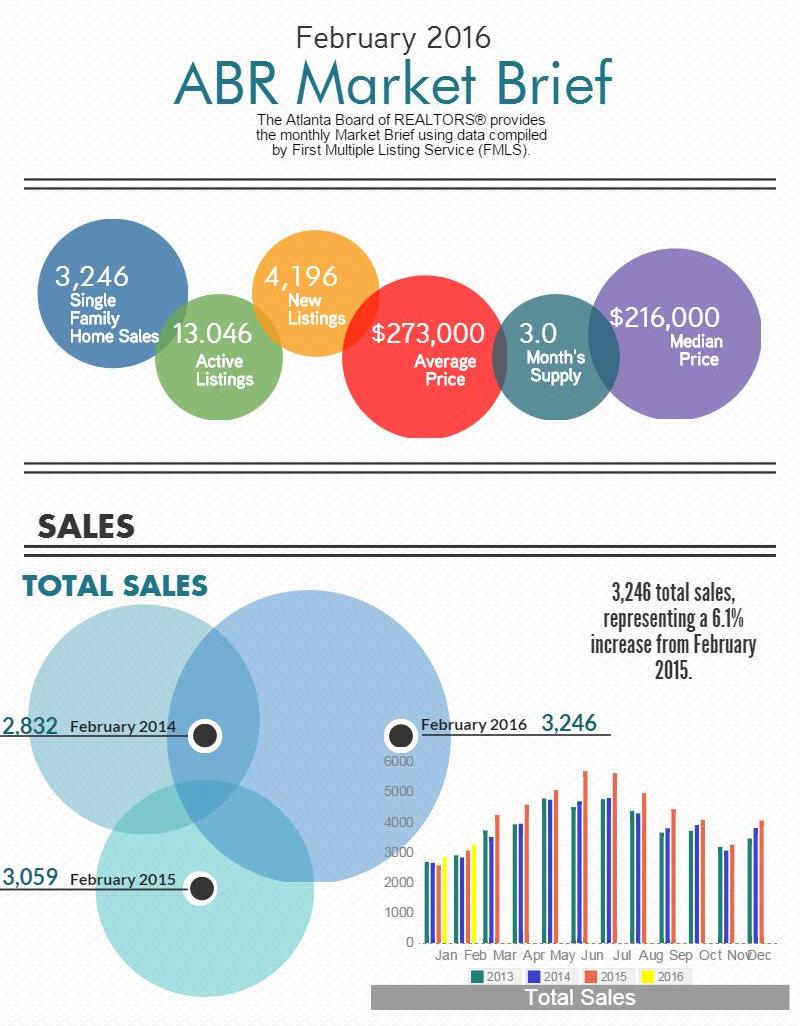 About the ABR Market Brief
The ABR Market Brief is designed to offer an overview of the Atlanta residential market by providing a synopsis of sales and home prices, and covers 11 counties: Cherokee, Clayton, Cobb, DeKalb, Douglas, Forsyth, Fulton, Gwinnett, Fayette, Henry and Paulding. Numbers in the reports are updated each month to reflect any additional recordings from the previous month. Each month, the numbers reported for the previous month are updated to reflect additional recordings.
About First Multiple Listing Service
First Multiple Listing Service, Inc. (FMLS) is the premier data services provider for real estate professionals in Georgia. FMLS was founded by a handful of real estate brokers in Atlanta in 1957. Today, membership is growing quickly and is spreading in every direction throughout Georgia and the Southeast. Currently, FMLS has over 1,900 offices and serves more than 29,000 real estate agents. The FMLS listing database contains more than 36,000 active listings located all over Georgia and the Southeast.