Many people prefer to buy a home in move-in ready condition. A new study by Parks Associates on behalf of Coldwell Banker found that 71% of the 1,250 adults surveyed agreed with that statement, but new appliances and painted walls aren't the only criteria of a move-in ready home. 44% of the respondents wanted not only a move-in ready house, but one that also includes smart home technology. Even in older homes, if it was updated to include smart technology, 57% said they would consider buying it! While many might assume that only young people would prefer smart home technology, 61% of millennials, 52% of Gen X, and 50% of baby boomer respondents indicated their interest.
Smart home technology, or home automation, allows you to keep tabs on your home while you're away. It also can provide the ability to be more economical and eco-friendly, depending on what technologies you incorporate into your home.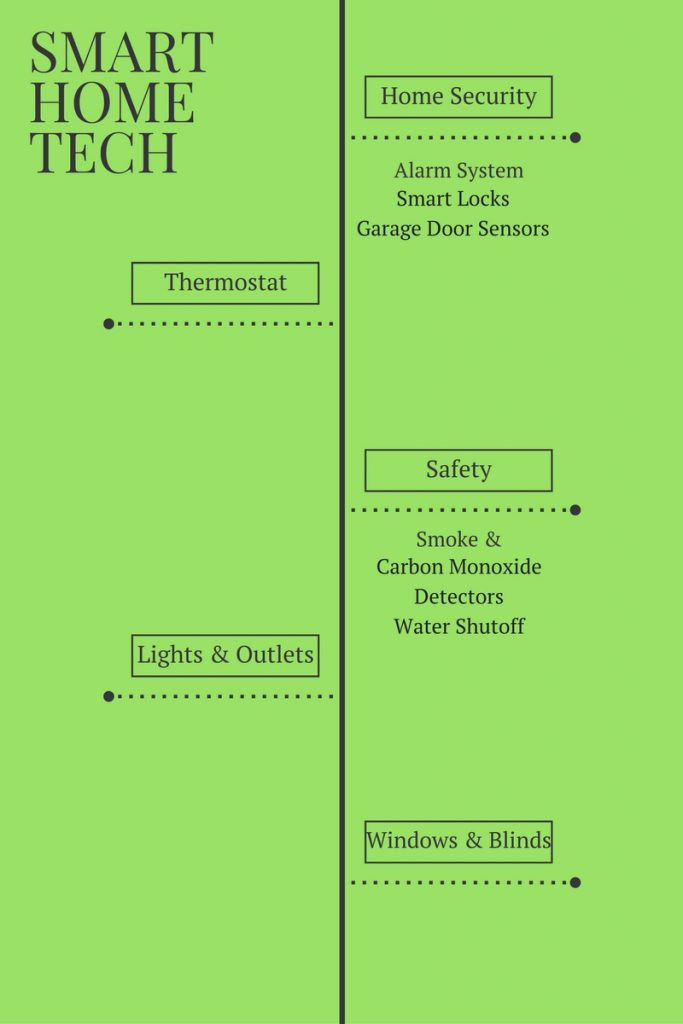 Home Security
Many alarm companies are beginning to offer systems that link to your phone, giving you the ability to arm and disarm the system from anywhere. You can also have the option to activate cameras, which you can view remotely. If your child comes home from school, you can disarm the alarm, make sure they got inside via the camera, and activate the alarm. At the same time, being able to see what is happening inside your house may provide peace of mind in the case that the alarm goes off when you are away. If you forget to arm the system before you leave, you can also set up a geofence that will automatically arm the system when you move beyond a specified border, such as the end of your neighborhood. Finally, you can tell which doors or windows are open simply by looking at the app.
Homeowners are also investing in smart locks. Compatible with or without a key, one type of smart lock allows you to set a specific code on the keypad that requires you to punch in two random numbers before your code, which prevents a burglar from guessing the code based on fingerprint marks. You can also lock and unlock from afar, so if you forget to lock the house in the morning, pull up the app on your phone and simply lock your door from across town.
Not sure if you closed the garage? Smart garage door cameras and alert systems will tell you if it's open or closed and provide the option to close it when you aren't home.
Thermostat
The cost of heating and cooling a house is often a worry for homeowners. Smart thermostats are changing that by giving homeowners the opportunity to track their energy usage over time, detect differences in temperatures in different rooms, and provide automatic reminders for service. Using sensors placed around the home, the smart thermostats attempt to maintain even temperature throughout the house.
Smoke/Carbon Monoxide/Water Detectors
Staying aware of emergency situations is important when you're at home and when you're away. Smart smoke and carbon monoxide detectors will notify you on your smartphone and give you the option to call 911 or silence the alarm in case a batch of cookies burnt around the edges.
Concerned about flooding? Small sensors placed around the home will detect when a floor is covered with water and may even automatically shut off the main water supply to the house, saving you and your property from the stress of a damaged home.
Lights
You may know about old-school plug-in timers, but you can now control lights from your smartphone thanks to new technology. Turn lights on and off or dim them from your phone. If your meeting went late, and you want to turn on the outside lights, you can do so with a touch of your finger.
On the way to the airport and unsure if you turned off the flatiron? With switch devices, you can turn on or off switches from your phone!
Windows and Blinds
We've all seen those movies where the blinds open at the push of a button. Now, homeowners can invest in smart blinds that can be set on a schedule for energy conservation or to help set the mood.
Smart home technology is valuable in today's highly connected world, and sellers will be in a better situation should they consider investing in it. If you're interested in staging your home with smart technology, you can order a customized or complete kit from Smart Home Staging, and you can have the devices professionally installed to make it easy. For more information, you can check out this list of the Best Home Gadgets of 2016.