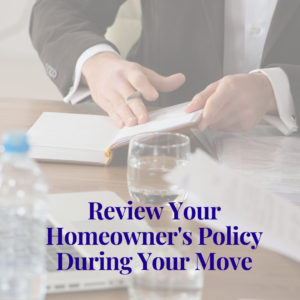 When you're ready to move to a new home, remember to review your homeowners insurance. It protects your valuables and gives you peace of mind. Here's what you need to know about this coverage during your move.
Understand Insurance Offered by the Moving Company
Your moving company may offer two types of insurance for your belongings as they transport them to your new home.
Released Value – Covers the moving company's liability up to 60 cents per pound per item. Often free, you must specifically select this insurance to avoid being charged the Full Value Protection.
Full Value Protection – Covers repair, replacement or cash settlement of damaged or
broken items. Coverage is limited to $100 per pound per item unless you document the
item as an extraordinary valuable. The cost for this coverage varies by mover.
Generally, moving companies do not insure the following items:
Open boxes or boxes you pack yourself.
Hazardous materials, including paint or propane tanks.
Certain furniture materials, such as pressed wood or particle board.
Electronics wiring or inner workings.
Musical instruments.
Because your homeowners insurance policy may cover your belongings during a move, review your existing coverage to avoid purchasing duplicate insurance you don't need. Clarify what damage is covered by your current policy, too, such as vandalism, theft, damage, breakage, or loss.
Update your Possessions List
If you have to file a homeowners insurance claim, you may need to prove via photos or a purchase receipt that you actually own the item. Use your move as an opportunity to update your possessions list and the value of your belongings. Remove any items you no longer own and include items you buy for your home.
Insure Valuables
The jewelry, art or collectibles you own may be covered by a rider on your homeowners insurance policy. Those same valuables might not be covered while in transit during a move, though. Verify coverage before you move and add applicable riders to protect your valuables.
Purchase Insurance for your New Home
Begin a new homeowners insurance policy on your new home on closing day to avoid coverage gaps. Your agent will need to know details about the size of your new home, additional property structures, construction materials, installed alarms, the neighborhood, and your mortgage.
Cancel your Old Policy
Cancel the insurance policy on your old house when you no longer have ownership of the home. Cancel too early, and you could be liable for any structural damages or vandalism that occur after you move out and before the new owners take possession. If you have a mortgage and an escrow account, your policy will be cancelled as part of the closing process.
Moving to a new home can be exciting. Review your homeowners insurance policy during your move to ensure your belongings are adequately covered.