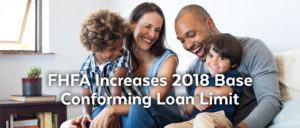 What do you need to know? 
The Federal Housing Finance Agency (FHFA) has announced that they will increase the maximum conforming loan limits for 2018.  In most of the U.S., the 2018 maximum conforming loan limit for single-unit properties will now be $453,100, up from $424,100 in 2017.
The Housing and Economic Recovery Act (HERA) requires that the baseline conforming loan limit be adjusted each year for Fannie Mae and Freddie Mac to reflect the change in the average U.S. home price.  According to FHFA, home prices have increased 6.8% between the third quarters of 2016 and 2017.  Therefore, the baseline maximum conforming loan limit in 2018 will increase by the same percentage, effective January 1, 2018.
Buyers who are interested in homes priced up to $453,100 can now take advantage of low interest rates and lower down payment options that conforming loans offer, rather than having to deal with the stricter terms and higher rates of a jumbo loan. Buyers who could not otherwise afford a mortgage without these more favorable terms can now look at homes with a higher price tag than before, providing them with more options for their home search.
Areas and counties where the average home value is higher may have higher conforming limits. Visit FHFA's website for 2018 maximum loan limits for all counties.