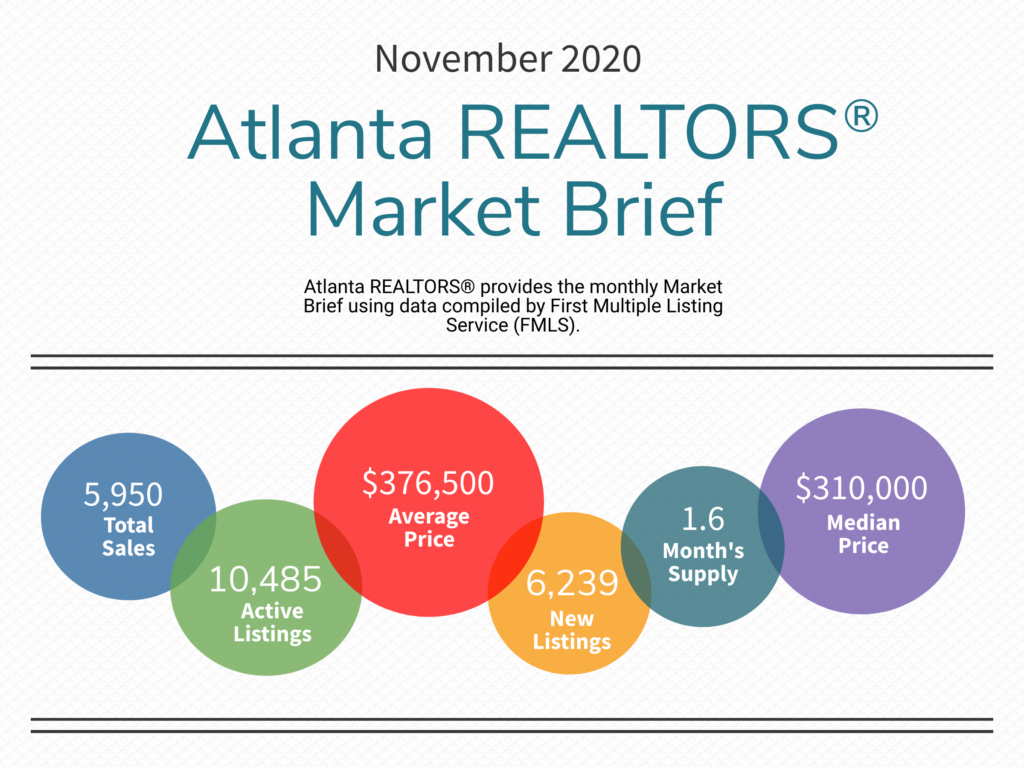 The November 2020 Market Brief compiled by First Multiple Listing Service (FMLS), provides a regionally focused synopsis of monthly sales and home prices for residential properties in Metro Atlanta. This summary covers 11 counties: Cherokee, Clayton, Cobb, DeKalb, Douglas, Fayette, Forsyth, Fulton, Gwinnett, Paulding and Rockdale.
Demand: November residential sales were at 5,950, an increase of 9.8% from the previous year.
Price: Average and median sales prices continue to gain traction and outpace 2019's figures, with positive gains. The median sales price in November was $310,000, an increase of 15.7% from last November. The average sales price was $376,500, up 15.0% from the previous year.
Supply: Atlanta area housing inventory totaled 10,485 units in November, a decrease of 42.3% from November 2019. New listings totaled 6,239, down 5.8% from November 2019 and down 27.1% from the previous month. The month's supply over a 12-month period decreased to 1.6 months.
A Word from 2020 Atlanta REALTORS® President Jennifer Pino:
"Recently, the National Association of REALTORS® recognized Metro Atlanta as one of the Top 10 markets in the US, and November's activity certainly supports this recognition. Despite the available inventory declining to now only 1.6 months of supply, sales remain strong as closings are up nearly 10% over 2019," reported Jennifer Pino, President of the Atlanta REALTORS® Association. "In this market, it is extremely important for prospective buyers to secure financing in advance of the home search process as many properties are receiving multiple offers and do not remain on the market for very long."
"Interest rates are forecasted to remain relatively flat for 2021 and with inventory remaining low, we expect this strong market will continue well into 2021."

The data in this report was compiled by First Multiple Listing Service (FMLS). For more information on details of this month's report, please contact the Association at 404.250.0051.
*Each month, the numbers reported for the previous month are updated to reflect additional recordings.