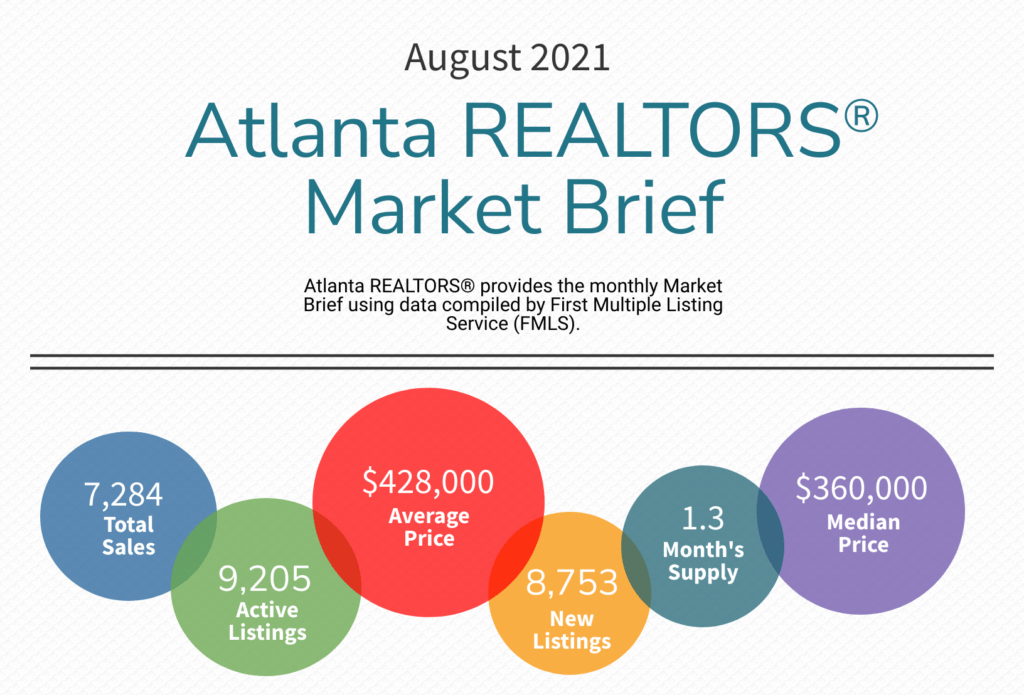 The August 2021 Market Brief, compiled by First Multiple Listing Service (FMLS), provides a regionally focused synopsis of monthly sales and home prices for residential properties in Metro Atlanta. This summary covers 11 counties: Cherokee, Clayton, Cobb, DeKalb, Douglas, Fayette, Forsyth, Fulton, Gwinnett, Paulding and Rockdale.
Demand: August residential sales were at 7,284, a decrease of 5.7% from the previous year.
Price: Average and median sales prices continue to outpace 2020's figures, with positive gains. The median sales price in August was $360,000, an increase of 17.6% from last August. The average sales price was $428,000, up 14.6% from the previous year.
Supply: Atlanta area housing inventory totaled 9,205 units in August, a decrease of 29.8% from August 2020. New listings totaled 8,753, down 3.6% from August 2020 and down 7.1% from the previous month. The month's supply over a 12-month period decreased to 1.3 months.

A Word from 2021 Atlanta REALTORS® President Cynthia Lippert:
"With inventory once again reflecting a significant decline in comparison to 2020, and less than half of what was on the market in 2019, the August closings are reflecting this ongoing challenge," stated Cynthia Lippert, 2021 President of the Atlanta REALTORS® Association. "Sales are historically strong for the month of August but are down slightly in comparison to a very robust market in 2020."
"The standout factor among seasonal patterns, however, is prices, which are steadily increasing without signs of slowing down anytime soon," says Lippert in reference to the average home price increasing by 14% from 2020, and the median home price increasing by 17%".