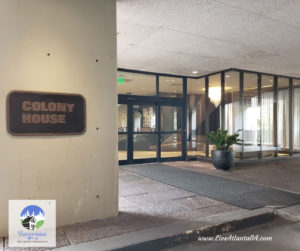 Colony House is a unique building located in the heart of Midtown, at 15th and Peachtree, just up from the entrance to Piedmont Park.
Colony House was designed by award winning architectural firm Jova/Daniels/Busby in 1972 as part of Colony Square, the Southeast's first urban mixed use development. The building's classically modern design was inspired by famed architect LeCorbusier's "machine for living" concept in which buildings are designed to be both aesthetically pleasing and functional.
Colony House features masterfully designed residences with classically modern detailing, such as floor-to-ceiling windows. Colony House features an array of signature floor plans, which range from sleek studios to penthouse suites. Many of the units are multi-level with multiple bedroom and bathrooms and each residence can be tailored to resident's individual tastes.
The building's west-facing homes feature dynamic skyline views of Midtown and Downtown, while east-facing residences overlook Atlanta's canopy of trees, including historic Ansley Park, Buckhead, Stone Mountain and beyond.
Colony House's resident amenities include restaurants, salons and retail venues on the ground-level plaza area, a private conference room for residents, 24-hour concierge and available underground parking. Residents also qualify for membership in the Ansley Park Civic Association, which hosts special events throughout the year and works to maintain neighborhood parks and security.
Available Homes at Colony House
Property Resumé