Chastain Park is located inside the Perimeter, and is in both Sandy Springs and City of Atlanta (Buckhead). Chastain Park amenities include golf, tennis with a pro shop, a swimming pool, baseball fields, little league football fields, and walking/jogging trails, equipped with benches and water fountains along the route, as well as a playground. The Galloway School overlooks Chastain Park, and Sutton Middle School is located just up the street.
Homes range from the $400,000s to over $3,000,000, and vary in style. Many of the older homes are being demolished for their land and beautiful new estates are being built.
Streets in the Chastain Park area are Dudley Lane, Powers Ferry Road, Lake Forrest Dr, Hollydale Ct, Paran Valley, Millbrook Dr, Brook Hollow Rd, Twin Springs Rd, Jettridge Dr, Bryn Mawr Lane, parts of E Conway Dr, Runnemeade Rd, W Wieuca Rd, Hillside Dr, N Broadland, Broadland Rd, Pineland Rd, King Rd, Pinehill Pl, Tuxedo Rd, Dykes Dr, Exeter Close, Northside Chase, Allen Ct, Eppington Dr, Cochran Dr, Reid Lane, St. Andrews NW, and Tall Pines Dr.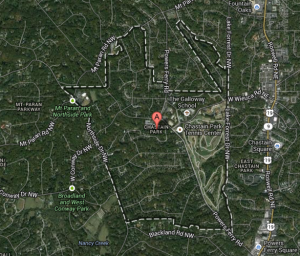 Available Chastain Park Homes For Sale
Property Resumé