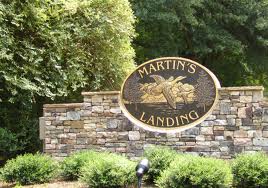 Martin's Landing is a planned community that consists of 1030 acres between the north bank of the Chattahoochee River, and Holcomb Bridge road within the city limits of Roswell, Georgia. It consists of 1,964 homes within twelve subdivision communities consisting of single family homes, patio homes, condominiums, town homes, and apartments.
Lakes, greenbelts, and all amenities are managed and maintained by the Martin's Landing Foundation, a non-profit corporation consisting of all Martin's Landing property owners. As a planned unit development, the foundation exercises control over all site and structure improvements for the purposes of architectural control.
Martin's Landing is self-contained with a highly rated elementary school (Esther Jackson), private parks, playground, trails, lakes, docks, boat launching areas, playing fields, swim and tennis facilities. There is also a fire station located at the northern edge of the neighborhood.
Martin's Landing is a community of about 1964 single family homes, patio homes, condominiums, town homes and apartments, all within 12 subdivisions. It has been a bustling Roswell, GA community for more than 34 years. It's an established neighborhood in a beautiful wooded area, with a great assortment of hardwoods and pines throughout the 1030 acres.
The Treasures are many in Martin's Landing. It is a neighborhood with green belts, numerous walking trails, wildlife and the beauty of nature surrounding it. Creeks and ponds run through the Landing, as well as the 53 acre Lake.
A 2.4-mile walking path surrounds the lake, and on any given day, rain or shine, people are out on the path running, walking, or bicycling, meeting up with others who are strolling their babies, walking with their children, or watching the turtles, ducks and fish swim by. A heron can often be seen standing and observing the activity.
Martin's Landing boasts three recreation areas including a lakeside clubhouse, playgrounds, three tennis court areas (15 Tennis courts total and 2 are clay courts), and The River Club, which sits right next to the Chattahoochee River. The community also has its own elementary school, Esther Jackson Elementary.
 Martin's Landing Amenities
Holcomb Bridge Entrance Area (8 acres):
Playground.
Play area and kite flying field.
Two parking areas.
Two creeks.
Natural buffer and greenbelt area.
Lake Pavilion Recreation Area (3 acres):
Adult and children swimming pools.
Four lighted tennis courts.
Basketball court.
Picnic area.
Bathroom facilities.
Lake frontage and parking lot.
North Pond Recreation Area (12 acres):
5 acre pond.
Perimeter walkway and bike path.
Water's edge benches and two creek bridge.
Swimming pool.
Two lighted tennis courts.
Picnic area.
Bathroom facilities.
Playground.
Athletic sports field.
The River Club (8.5 acres):
Riverfront picnic and recreation area.
Junior Olympic swimming pool with separate diving area.
Nine tennis courts (clay and concrete).
Club house and pro shop.
Playground.
Wooded trails.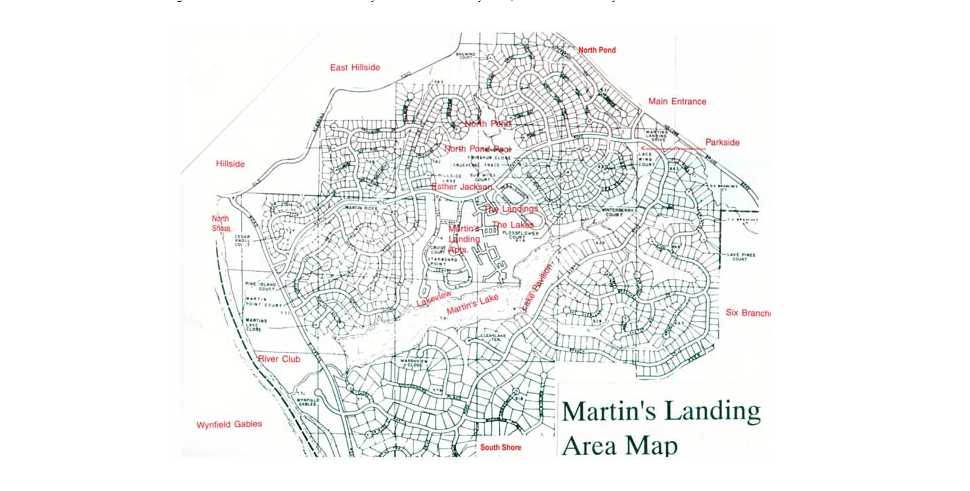 Available Martin's Landing Homes
Property Resumé